I've not seen a pattern quite like this one. It's Simplicity 8189, copyright 1977.
They are calling it a Back-Wrap Jumper. It's really a Wrap Skirt with a Button Closing, with both a front and back Bib that attach with buttoned shoulder straps. (I'd probably just slip over my head and then button the skirt). It's really a variation of overalls/coveralls, with a skirt instead of pants. Seems like we should be able to make up a cute name for the style. Perhaps ... skirt-eralls?
I'm still out on whether or not I like it. As is, no. In the tan fabric pictured, it's a bit dull (just like overalls would be). It needs snazzing up a little. Perhaps, one could put an advertisement on the front and back bib and rent out as a billboard. (don't they have those in the large cities -- folks walking around with billboards?). Or, perhaps a cute applique?
This is in the Extra-Sure Pattern series, which are Easy to Sew, as well as Fashion tips included on the instruction sheet.
Here's the Fashion Sheet for this one ....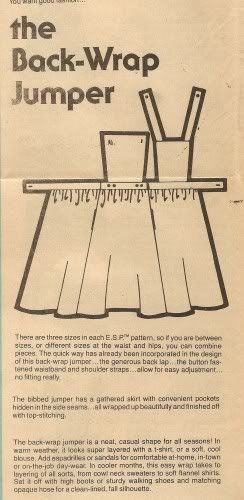 So, what would you do with this pattern .... I'd love to hear your inspirations.
Thanks for dropping by,
Lorrie,